Employee Theft - Retail / Bar / General Business Investigations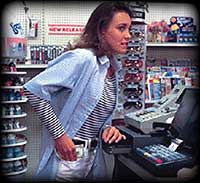 Sure, we all have taken a pen, a notepad or even some post-it notes from the office, but for some it doesn't stop there. Thieves may start there and work up to bigger and better things. Once they gain your trust, they are given more responsibilities and maybe even left in charge. This opens the door to merchandise, money, maybe even trade secrets being stolen. They start small so no one notices and then when they feel comfortable and confident will resort to bigger things. ABCO Investigations can set up surveillance on an employee or employees and find out what is really going on.
In the bar and restaurant business it's easy for employees to steal. Friends come in and get free food and drinks and if you're not watching every minute, how will you know? In a cash business it's hard to detect theft without proper surveillance equipment. Theft can also include an employee wasting time on the job. Does an employee spend too much time socializing with patrons instead of working? ABCO can also go undercover to investigate how your employee's are at customer service. If a customer has a problem, how knowledgeable are your employee's to remedy the problem? How do they handle stressful situations? Most customers, if they are treated badly, will not return to that establishment causing loss in sales. If this occurs many times a day, the loss of sales can be astonishing.
ABCO will give you a detailed report on how your employee's handled each situation. If needed, we can also set-up a surveillance camera to record employee's attitudes towards difficult patrons.
ABCO can also have an investigator go undercover as an employee and establish working relationships with the other workers to uncover the proof of theft. ABCO can set-up surveillance cameras to record any illegal activities that you will need to prosecute and also to send a message to other employees that theft will not be tolerated at any level.


---
---