Domestic / Divorce / Infidelity Surveillance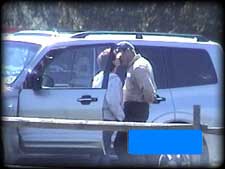 ABCO has a 100% success rate proving infidelity cases. ABCO Investigators realize that this type of service is extremely painful and can be embarrassing. Often times, clients will come to ABCO prior to contacting a divorce attorney for the evidence they need to prove their case. This approach ultimately saves the clients thousands of dollars in attorney legal fees. The thought of your spouse being unfaithful can be devastating. We understand what you are going through and are dedicated to helping you get on with your life.
The pain and agony of not knowing can disrupt your life and consume you. Every time they leave the house you get a knot in your stomach because you don't know if they are being truthful.
Unfortunately, if one suspects infidelity, the majority of the time they are correct. Let a trained investigator get the proof you need to move on with your life and put your mind at ease. There are many types of surveillance and we will discuss them with you and choose the best method possible for your individual needs. If you feel that your significant other is bringing their "affair" to your home, we can install high-tech hidden cameras and catch them in the act. Your case will be completely confidential. We will outline your case and inform you of how we will proceed. The more information you provide us, the easier it will be to do our job effectively.
Even the smallest detail that you may feel is not significant can save us a lot of time. Some agencies will take your money and work on your case when it's convenient for them. It is not recommended you try to catch your significant other on your own. Your emotions are high and a confrontation will ensue that will only make matters worse and someone could get physically hurt. Also, if it is a marital issue, it will come down to your word against theirs and may not be admissible. Let the experts handle it and prove your case. We value our reputation and take your business very seriously. ABCO Investigations has the experience and dedication to get the job done right and as inexpensive as possible.
Some Signs Of Infidelity
Decrease of sexual interest in you
Time away from the home increases
Irritable and easily agitated - Starts fights with you
Increase in time spent online
Asks what your schedule is frequently
Unexplained high mileage on car
Unexplained credit card charges
They leave the room during phone calls
Changes password on email account
Sudden change in appearance (clothes, hair, cologne etc.)
Concerned with physical appearance
Strange numbers on their cell phone
New interests
These are just a few signs of infidelity. If you have a suspicion that something is not right don't ignore it. Let a trained detective get you the proof you need for peace of mind.





---
---